When travelling in France check what items of motoring equipment are required.




Other Information



Speed Limit - km/hr (mph)

Motorways
(toll)
Motorways
(non toll)
Major roads outside towns
Built-up
areas
| | | | |
| --- | --- | --- | --- |
| 130 (81) | 110 (68) | 90 (56) | 50 (31) |
.For car & trailer over 3.5 tonnes:

| | | | |
| --- | --- | --- | --- |
| 90 (56) | 90 (56) | 80 (50) | 50 (31) |
. For visting new drivers (full licence for less than 2 years):

| | | | |
| --- | --- | --- | --- |
| 110 (68) | 100 (62) | 80 (50) | 50 (31) |

- Motorways overtaking lane, minimum speed 80 km/hr (50 mph)
- Motorways in rain, maximum speed 110 km/hr (68 mph)
- Visibility < 50 metres, maximum speed 50 km/hr (31 mph)
- Towing a caravan or trailer? Then you will need to fit 80/90 stickers

Seat Belts
- Compulsory in front seats and rear seats if fitted.
- Under 10 years must be in the rear using an approved seat or harness.
- Up to nine months can be in an approved rear facing seat in the front.

Motorways
- Most motorways are toll roads "autoroutes a peage".
- Because of their private financing, prices per km can vary.
- Take a ticket on entering, and produce it later for payment according to
..the distance travelled.

Warning: the time of issue is printed on the ticket. Paying for it 2 hours later, 300 kilometres down the road, it is not difficult for a machine to work out that you must have been exceeding the speed limit!! If the police are checking that section of motorway you will be fined!

- Sometimes you can enter without a ticket, and pay a set amount on leaving.
- Emergency phones (orange) are located every 2km
- Parking and resting, toilets and picnic areas, are every 10 or 20 km.

Drinking and Driving
- The level of alcohol in the blood must be below 0.5 g/l.
- Random breath tests are frequent.
- Drink Driving fines range from approx £95 to £3000.

Don't forget to carry an NF approved Alcohol Breathalyser.

Minimum Tyre Depth
1.8mm.

Fines
- Police are authorised to impose and collect fines on the spot, but they
..must issue a receipt for amount paid.
- Speeding offences attract an on the spot fine of up to approx £500.
- Violation of traffic regulations attract on the spot fine up to approx £250.
- Disregarding safety precautions resulting in injury or death to a another person
..could result in very high penalties - approx £10,000 for causing slight injuries.

Parking
- A Blue Zone system operates in major towns, discs available from police,
..tourist offices and tobacconists.
- Parking meters and Pay and Display systems also operate.
- Wheel clamps and the impounding of cars are likely for illegally parked cars
..especially in Paris.

Emergency Phone Numbers
- Police 112
- Fire Service 112
- Ambulance 112

Additional Notes
- Reflective vests must be carried in the 'passenger cell' of the vehicle
..and not the boot.
- Use dipped headlights at night, never drive on sidelights alone.
- Flashing your headlights means I am going first, not I give way!
- Horns to be used for emergencies only.
- Flashing amber on traffic lights means proceed with caution.
New French Laws
Alcohol Breathalysers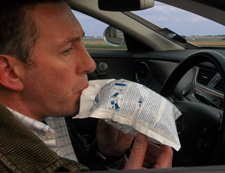 French Government confirms:
From March 2013, all vehicles travelling in France MUST, by law, be carrying NF Approved Breathalysers. These will need to be approved for use in France and specifically calibrated to the 0.5% French alcohol limit (UK limit is 0.8%).

Warning Triange & Hi-Vis Vests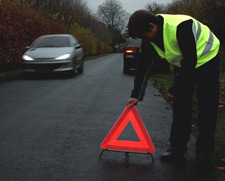 Motoring LAW in France and many other European Countries now requires all vehicles to carry a Warning Triangle and a Reflective Vest. It is strongly recommended to carry vests for all vehicle occupants, as is LAW in Spain, where TWO triangles are also required.

The French Société Prévention Routière (Road Safety Department) strongly advise carrying reflective vests for ALL vehicle occupants.


WARNING: Radar - Speed Camera Detectors



In France it is illegal to be in possession of a radar detector, even if it is not fitted or being used and the police can issue heavy on the spot fines and confiscate any equipment. Travel Spot's advice is to remove both the fittings and the radar detector from your vehicle before driving in France.

Please be aware this legislation also applies to SatNavs that show Speed Camera positions. If your SatNav has this feature it must be disabled. This can normally be done by deactivating the "camera warning" feature within the SatNav menu or by downloading a software patch from the manufacturer's website.




Staying on the Right Side of the Law



Find out more about the consequences of not meeting European Motoring requirements... More info




Buy Onboard



All essential products required to ensure you are Safe & Legal are available onboard from all the major ferry companies and cross-channel operators.